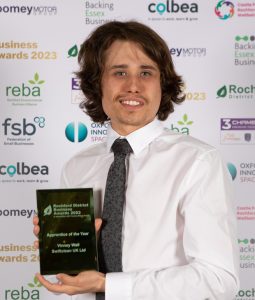 Swiftclean employee, Vinney Wall, has been named Apprentice of the Year at the Rochford District Business Awards in Essex.
Joining Southend-based Swiftclean in July 2021, Wall completed a Level 3 Business Administrator apprenticeship at the end of 2022. His exceptionally proactive approach to his work led to Swiftclean nominating him for the award, which he brought home against stiff competition at an awards ceremony in January 2023.
His job description as an apprentice was to provide administrative support to the team providing Legionella control services, ensuring that accurate reports are sent to clients on time. This required him to liaise with Swiftclean's field engineers and project coordinators.
Due to Wall's aptitude and ability to learn at a fast pace, the company trusted him with more responsibility than they would normally expect an apprentice to carry. He visited sites to help with field work and observe first hand in order to thoroughly understand the work of the engineers. He quickly spotted key improvements that could be made in accuracy and consistency in engineers' reports, and delivered training to his more established colleagues to ensure their implementation. Swiftclean's project coordinators have also adopted these improvements, and clients have noticed and remarked on the greater clarity and positive changes.
On completion of his apprenticeship, Swiftclean created a new role for Wall, and he is stepping up to become a multi-skilled coordinator. Expanding his admin skills into other areas of service delivery, he is learning another of Swiftclean's core services, kitchen extract fire safety cleaning. Wall is now coordinating both legionella and kitchen extract cleaning orders from the point of sales conversion, to the production of the final post service report to clients.
Swiftclean founder and Managing Director Gary Nicholls said: "Vinney's contribution has already had a positive widespread impact in the business. During his first year at Swiftclean, he has become a key member of the service delivery department. His new role has been built around his keenness to learn multiple job roles. While an invaluable coordinator within our Legionella team, he will also provide on-site support as a Legionella engineer at times of additional workload. His hands on experience, combined with his administrative strengths, are giving him excellent insights into our working processes from field to head office.
"Vinney has also embraced our company culture, participating in social and charitable events with great enthusiasm. He is truly a Swiftclean person, following our values of Honesty, Respect and Ownership in all aspects of his work. He has a very bright future with us."