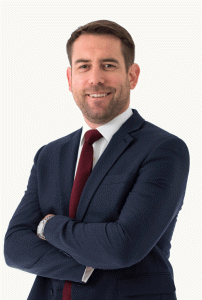 Sean Fisher, Managing Director, Cleaning at OCS
My career in the cleaning industry began with very humble roots as a kitchen porter working in a busy conference centre close to Finsbury Square. I worked long hours and learnt how to clean to exacting standards. After my gap year I moved back to South Africa to study PC Engineering.  I worked for a company in the Eastern Cape but the pull of the UK was strong and in 2003 I moved back to progress my career.  I struggled to find work in IT and landed a job through a friend who had acquired a business with Rob Legge, (now Group CEO at OCS).  I moved to Sheffield where I was the Supervisor at Gatecrasher nightclub managing a team of cleaning operatives.
Unbeknownst to me at the time, those early years working on site gave me a fantastic foundation for my career.  I learnt how to clean, how to mobilise a team and how to treat every challenge or problem like it was my responsibility.  I was interacting with clients on a daily basis, reacting to their requests and anticipating their challenges.
Rapid growth and a "niche in the retail sector"
In 2004 an opportunity arose to move to the Head Office in Bury St Edmunds to work as an Area Manager (and then Operations Manager) looking after night clubs, retail stores, offices and manufacturing plants.  As a business we found a niche in the retail sector and began to win large contracts allowing us to grow faster due to our high standards and reputation for delivering on our promises.
We were fortunate to win a few stores off a recognised national retailer in the early years, two years later in 2006 they awarded us with our first regional contract, over the next four years we continued to deliver and an excellent service and then in 2011 we were awarded the national contract with them. We went on to win a contract for two flagship retail stores in London with another household name retailer on Oxford Street, and in 2006 were awarded a national contract with them across the UK and Northern Ireland. We continue to work with these two retailers which I am very proud to say given its been around 20 years since we started our first stores with them. In 2007 we moved into grocery retail and won our first small store in Cambridge. We're still working in partnership with them and look after two thirds of their UK estate. When we started in 2004, we were a £5 million cleaning business. Today, thanks to a great deal of hard work and fantastic organic growth we have a turnover of £400 million and employ around 20,000 employees.
The industry-wide recruitment crisis
Recruiting cleaners in today's market is the most challenging I've ever experienced. There used to be pockets throughout UK that everyone struggled in – now however, recruitment is challenging all over the UK. This is impacting all of our services lines, not just cleaning. We seem to be caught in a perfect storm caused by reduced migration post Brexit, competing industries offering more attractive pay and training opportunities, and the great resignation.  The UK workforce has reduced by 245,000 post pandemic and people are simply not returning to work or looking for alternative employment.
How can we promote our industry?
I think we need to be more proactive in promoting our industry and cleaning as a profession. FM offers a wide range of opportunities for career growth and it's important that we are able bring in talent from other markets. I am passionate about ensuring our cleaners are recognised and appreciated as key colleagues in the workplace. There is a new hygiene apprentice course that should hopefully be approved within the next four to six weeks. For me, this is really exciting and something that our business will support.
Although we're in a period of transition as a company, it's crucial that our employees feel part of the business and are involved and invested in the direction we're moving in. Over the next few months, we'll be focusing on ensuring our staff feel settled and comfortable and understand our vision for the future as a leading facilities management company. I feel very fortunate to be leading such a fantastic team. My early foundation in cleaning has allowed me to understand the demands of being on the front line. It's my job now to inspire and retain my team, to encourage them to become the leaders of the future.