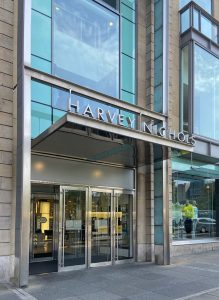 One of the UK's best-known department store chains, Harvey Nichols, has appointed Spectrum Service Solutions to work with them at its store in Edinburgh.
Spectrum will provide cleaning, hygiene and sanitary, consumables and window cleaning services at the store and in the call centre facility at St Andrew Square.
The contract win adds another global brand to our client portfolio. Spectrum is delighted to work with its team to ensure its customers and staff enjoy the high levels of cleanliness and comfort they expect.
Founded in 1831, the long-established business is renowned for offering some of the best fashion brands and an exquisite range of food and wines. Because of its enviable reputation, it is undoubtedly one of the busiest stores in the capital, popular with locals and many tourists from around the globe. The Edinburgh store was purpose-built and opened in August 2002, and it is widely accepted that its arrival kick-started the biggest retail revolution the capital has ever witnessed.
Regarding the latest contract win, Spectrum's Operations Director, Rebecca Bell, said: "This is an important win for Spectrum, it reinforces our desire to work with leading brands, and Harvey Nichols is up there with the best retailers in the world and their Edinburgh store is undoubtedly one of the busiest shops in the city.
"We relish the task ahead; as a retail operation, the building is in use for many hours each day, but our team are ready to meet the challenge and looking forward to working with the team at Harvey Nichols."
Spectrum's Managing Director, Sara Speirs, was equally excited and added: "Harvey Nichols is an iconic brand with a well-deserved reputation for exceptional quality and service. Customers expect and value the first-class shopping experience they get when visiting the store; it's a privilege for Spectrum to be part of delivering that expectation daily."