Senior members of the Worshipful Company of Environmental Cleaners (WCEC) have led by example, as the first to receive the Award of Chartered Practitioner in Environmental Cleaning.
They are the pathfinders making way for others in the UK cleaning industry, who will be able to apply to the Chartered Practitioner's Register after its official launch at the Cleaning Show in November 2021.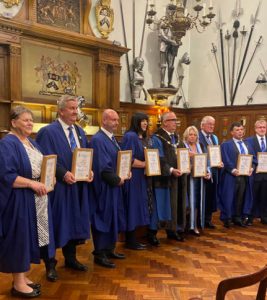 The first Awards are being presented to:
Alexander ('Sandy') Aird (Liveryman)
Susan Bartholomew (Liveryman)
Christopher Broadley (Court Assistant)
Anthony Daly (Freeman)
Benjamin Douglas-Jones QC (Liveryman)
Gary Fage (Master)
Lorraine Larman (Junior Warden)
Calum MacLeod (Liveryman)
Barrie Torbett (Past Master Emeritus)
Lynn Webster (Court Assistant)
These recipients have been the first to try and test the application and qualification process, to ensure that it is ready for its wider launch to the entire cleaning industry in November. It has taken exceptional effort to bring the Chartership scheme to fruition, as a new route for cleaning industry members to gain a professional credential recognising their skills or expertise. Along with the apprenticeship scheme under development, it provides a clearer career path and continuous professional acknowledgement that can only benefit in the long term.
The awards were presented to the above recipients on 20 September by Deputy Master John Shonfeld and Major General Jeremy Rowan CB OBE, who is the Chairman of the Chartered Practitioners Register committee. Also in attendance was Alderman Sir Andrew Parmley (Lord Mayor 2015-2016), an Honorary Freeman of the WCEC and Deputy Chairman of Chartered Practitioners Register Committee.
The WCEC will be hosting two webinars about the Chartered Register of Practitioners:
· Tuesday 28 September 2021 @ 6pm – 8pm; to register click here.
· Friday 1 October 2021 @ 12noon – 2pm; to register click here.