Saracens Rugby Club and Rentokil Initial are continuing to champion period dignity in sports, with the installation of In Cubicle Period Dignity Dispensers in the hospitality and guest washrooms at StoneX Stadium.
These dispensers provide free and discreet access to period products within the cubicle, so crucially for those who menstruate, at the point of need. The dispensers can be stocked with a choice of two types of period product including reusable and/or disposable options.  They also contain personal wipes and biodegradable compostable bags.
This is the latest step for Saracens in championing period dignity, who have worked closely with their Official Kit Partner, Castore, to ensure they have period-conscious kit for their women's team, featuring shorts made with a 50 per cent darker material. Developed in conjunction with Castore and Saracens Women's team management, next season's shorts are designed for the players to feel as protected as possible when playing.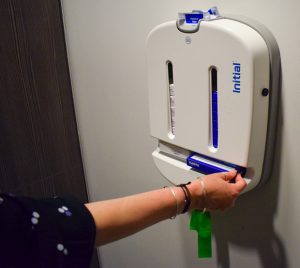 As the official Washroom and Hygiene Partner of StoneX Stadium, Rentokil Initial has been providing a wide range of washroom products and specialist hygiene services to the club since 2020, as it continues to prioritise the health and safety of its players, staff, and stakeholders, with a hygienically-safe environment.
Saracens Operations Director, Alex MacIntyre said: "As a club, caring for our people is at the heart of everything we do. The safety and comfort of our players, staff and supporters is of paramount importance to us, and we are constantly looking at ways that we can improve and develop the facilities that we provide onsite at StoneX stadium." 
Women's Rugby Performance Manager, Laura Eddie commented: "In our performance environment, we want players to focus on training or the match they are playing.  We believe that as a club it is important that we put in place washroom facilities as well as a playing kit design that helps to ensure our players and colleagues are not distracted or anxious when they are on their period. Providing access to period products in the cubicle means they have the items they need, in the place that they need them." 
Sian Walkling, Head of Marketing for Initial Washroom Hygiene and Ireland said: "It is important to provide a dignified washroom experience for those who menstruate. Our own research has shown the overwhelming majority of those who menstruate (94 per cent) would like to see feminine hygiene provisions supplied in the actual toilet cubicle, with 55 per cent wanting to see spare period products included as well. Additionally, 43 per cent would like disposable bags to be available in cubicles to discreetly dispose of used products, whilst 36 per cent want moist wipes for use on sensitive skin.  
"We are seeing a growing interest in period product dispensers that can go in the toilet cubicle.  In fact, we have sold 70 per cent more In Cubicle Period Dignity Dispensers in the first four months of 2023, than we did in all of 2022."